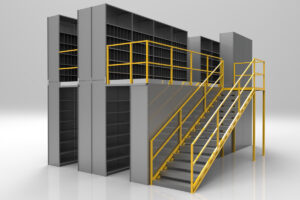 A steel shelving mezzanine or shelving catwalk system is designed to meet and exceed your need for additional storage by maximizing the use of existing floor space in your warehouse storage facility. By simply installing our floor channels and cross aisles channels with your flooring, you can increase your floor space by using the existing height of your building, and all this without the expense of having to move into a larger facility.
Stairs and landings are available for all steel shelving mezzanines. These types of catwalk mezzanines can be built using Metalware Interlok No-Bolt shelving or the Wide Span system.
For warehouse facility heights greater than 16', product storage density is far superior with a multi-level Structural Storage Platform. The modular nature of this shelving system can be configured for the storage of varied products; shelving bays must be common in base size in each level. Each steel shelving mezzanine system is engineered to suit your building configuration and constraints. Stairs and landing areas are designed to match egress and lift truck aisles.
Also known as, Shelving Catwalk Systems (usually 2 to 3 levels high), these systems best suit smaller parts / products, using backs and sides to separate back-to-back units. Racking Catwalk Systems (usually 2 to 8 levels high) are ideal for larger / heavier, individual items that require stacking. In a Full Floor Catwalk System, the top floor is completely open (used for bulk storage) or can accommodate varied shelving units. For multi-level systems (e.g. 3 levels and greater), the intermediate levels are Catwalk Systems and the top floor is open, full floor. Shelf and Rack Supported Storage platforms are built on existing racking / shelving units (e.g. do not require structural beams or columns) offering additional savings.
Lug
1. Attaches the cross aisle channel to the floor channel.
(painted blue for demonstration purposes only.)
Pin/Lock
2. Ties the floor channel to the T-post or end panel going through and using a nut and bolt on the other side to secure in place.
3. Cross aisle channel (viewed from below)
4. Mezzanine floor Channel (viewed from below)