Pallet Rack Protection Products
Pallet Rack Protection Products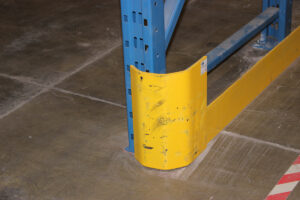 Rack Systems and Cogan pallet rack protection products are the ideal safeguard for pallet rack upright posts, pallet rack aisle ends, inventory areas and pick aisles. Compact and space-efficient, pallet rack protection products can also be used for high-density storage applications. Prevent narrow-aisle fork trucks and lift trucks from coming into contact with pallet rack posts and uprights.
Rack Systems Inc. and Cogan heavy duty pallet rack protectors are an all-steel construction, resilient powder-coated with safety-yellow paint finish that deliver the very best pallet rack protection.
Avoid expensive downtime and avoid costly collision damage with our line of pallet rack protection products. The all-steel construction provides 24/7 protection to guard your investment without interrupting aisle flow patterns or limiting access to your pick area. Shield critical rack supports and prevent dangerous pallet spills. Your workers are kept and your property secure.
Whether your storage facility is big or small, you can rely on Rack Systems Inc. and Cogan rack protection products to guide in-plant traffic and increase safety, efficiency and productivity
End of Aisle Rack Protection – where most damage typically occurs to pallet racking. They protect racking from unintentional hits from lift trucks and pallet loads being carried by lift trucks. Quick and easy to install without moving or disturbing current rack installations they take up very little of your existing aisle space.
Rack Upright Post Protectors – protects individual racking frame posts from possible damage by lift trucks and pallets.

Floor Angle Guide – provides protection ground level. Easy-to-install and cost-effective, Cogan floor angle guide keeps lift truck and picking traffic away from critical rack uprights, pallet flow rails, warehouse walls, offices, storage partitions, and other warehouse work areas. Cogan floor angle guide can also be used for narrow aisle storage (VNA) applications; to prevent narrow-aisle (VNA) fork trucks, lifts and order pickers from coming into contact with the pallet rack.
Available in standard lengths up to 20' long, floor angle guide is ideal where long, straight sections of protection are required. Made from 5" x 3" x ¼" structural angle, the sturdy all-steel construction stands up to warehouse traffic. All Cogan floor angle guide is sealed in a durable, powder-coated safety yellow paint finish for maximum visibility.