Metalware Modular Drawers
Save Space. Increase Productivity. Organize.
Integrated Modular Drawers Save more space while maximizing storage capacity, and ease of access. This drawer system answers a wide range of storage needs while occupying a smaller footprint. Made of superior 18 GA steel and built to last. Excellent for:
small parts and inventory storage
electrical, plumbing, and auto parts storage
tools and accessories storage
organize pick-pack-ship processes
This heavy-duty welded drawer can easily hold up to a total of 450 lbs and can easily be integrated with all current Interlok shelving units, maximizing your existing storage space. The drawer unit is framed within your Interlok shelves using adapter brackets for added security and unparalleled strength. The boxed drawer sides and Delrin Roller rail-system increases coverage and support of your goods, while the full-length ergonomic handle provides easy grip for effortless pull-push maneuverability. Maximize each drawer space with 20 GA steel drop-in dividers offered in a variety of configurations. The powder-coated finish adds to the streamlined and functional design.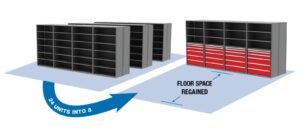 Fully compatible and adjustable with all Interlok units
Full-height drawer sides & face front
Non-slip ergonomic handle design for easy grip and secure hold
Swiss-made sliding system on Derlin® with safety lock
Full height drawer sidewalls
Complete extension with sliding pull-out and push back for easy viewing and accessibility / self-close with 450 lbs capacity per drawer
Each drawer includes drop-in dividers offered in a variety of configurations to compartmentalize and maximize your storage needs
Exceptional quality, designed to last and built to the highest standards of Metalware construction
Unique powder coating
Each drawer is backed by a 5 (five) year limited warranty against manufacturer's defects
Metalware – Integrated Modular Drawers Demonstration