Save Money and Help the Environment
Increase your warehouse capacity, better the environment, and put money back in your pocket. Not only is a Cogan structural mezzanine much less expensive than new construction or relocation, it is also a much more sustainable expansion alternative. Cogan structural mezzanines fit within your existing building structure, meaning;
no additional heating
no ventilation or electrical costs
double the usable work space in your facility
eliminate waste and reduce your carbon footprint
Floor Space Maximized
A general misconception from warehouse managers is that they don't have enough floor space; you have way more than you realize. Installing a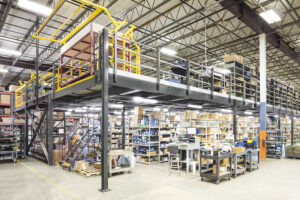 mezzanine will transform vacant overhead space into a profitable work and storage area. Think vertically; harness a wealth of underutilized space by adding a second and perhaps a third floor within your existing warehouse facility. Install a Cogan structural mezzanine and make your space work for you.
Lifetime Structural Warranty
When you purchase a Cogan structural mezzanine, you are purchasing a lifetime of support. Over 100 years of experience goes into every structural mezzanine made. Cogan engineers and designers understand what it takes to engineer, design and manufacture for the long-term investment. This passion for longevity fuels the process and drives their commitment toward continual quality and improvement. Customer satisfaction is more than just Cogan's goal, it's their very tradition – a tradition they have maintained for over 100 years. So when they guarantee the structural integrity of mezzanines for life, they mean it.
Best in Class Engineering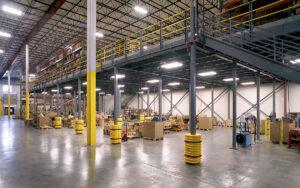 Cogan's team of expert engineers is the class of the structural mezzanine industry. They have no peers when it comes to building structural mezzanines. Their superior training and attention to every detail translate into a stress-free experience for every project. No matter the application, Cogan will build your mezzanine to meet the exact code requirements and safety regulations in your region. Whether you need basic plans or a city permit, Cogan engineering service packages will support every phase of the structural mezzanine project.
Think it, Cogan can build it
With over 100 years of experience, there is no mezzanine project Cogan haven't seen. If you can think it, they can build it. Use a mezzanine to boost efficiency in your parts department, stock room, locker room, office, retail store, sports facility, or on your production floor. Faster than you ever imagine possible, Cogan will build an industrial strength mezzanine around the existing layout of your facility, matching its exact height, area and load requirements. Where you see ceiling space, Cogan sees storage and work flow possibilities.
Rack Systems Inc. is an exclusive dealer of Cogan Mezzanines in Southern Ontario, Greater Toronto Area, Mississauga and Hamilton regions