Column Sentry-FIT
Column Sentry-FIT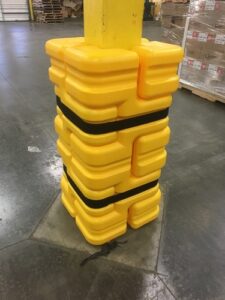 Rack Systems Inc introduces the new, patented Column Sentry-FIT; a game changing new 4-part column and upright protection product designed to FIT exactly onto a building column and provide superior  column protection. The moving parts slide into place, creating a custom fit for every column.
In addition to the perfect FIT, Column Sentry's new design is 15% stronger than the original Column Sentry, providing more protection on every side. Each side is equal to the others, so there are no stiff spots like 2-sided protectors. Superior strength, perfect fit.
FIT Sizes
Because the FIT is adjustable, there are few sizes required. The components slide in and out to fit a range of column sizes within the minimum and maximum sizes:
Small sized FIT adjusts to fit columns between 4″x 4″ (100mm x 100mm) and up to 8″x 8″ (200mm x 200mm)
Medium sized FIT adjusts to fit columns between 8″x 8″ (200mm x 200mm) and up to 12″ x 12″ (300mm x 300mm) in size
Column Sentry-FIT Installation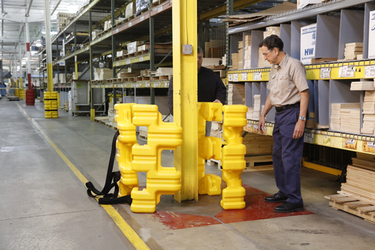 Position the 4 components of the FIT around the column. Slide 2 each together, until you have 2 equal sides.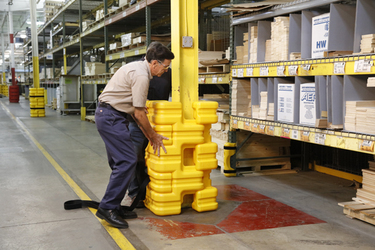 Slide those "halves" toward each other, sliding the parts together or apart, until it fits the column tightly.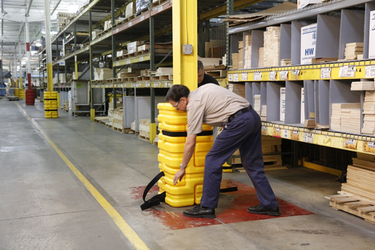 Wrap the finished column protector with the included 2-sided Velcro straps.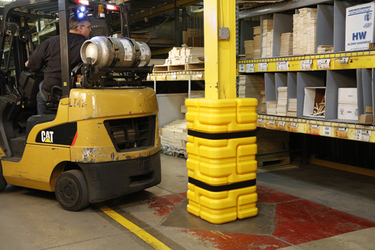 The FIT is set and ready for action.