Metalware Industrial Shelving – A Canadian Icon
Metalware opened its doors in downtown Montreal in 1950. Brothers Irving and Ben Levitt had a vision that has since revolutionized the industrial shelving industry; in 1954 they patented and became the first company to offer boltless shelving also know as No-Bolt Interlock Shelving. This type of shelving system is suitable for medium case and piece pick applications. These commercial shelving systems can be found across North America in every material handling and storage facility. Without even knowing, you may have a Metalware system in your warehouse storage facility. Metalware systems can be found in:
Offices

medical records storage
law records storage
health records storage
records storage

Industrial

automotive parts distribution
pharmaceutical
parts distribution
aircraft industry

Commercial

retail backroom inventory
car dealership parts
hardware
records storage

Government

national defense records
agency records storage
This is but a small list of the industries and applications that Metalware has serviced over the last 6 decades; their reach extends into every material handling and storage facility across North America.  Not only industrial shelving applications, but I know that Metalware shelving can be found in household basements, garages and private workshops across the United States and Canada.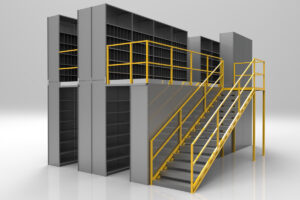 I'd like to touch on one other shelving storage solution that Metalware offers to clients, and that is the Steel Shelving Mezzanine system, also referred to as a "Shelving Catwalk System". This "mezzanine" shelving system maximizes the use of existing floor space in the storage facility without having to radically reconfigure your warehouse storage footprint.
Metalware has grown into the leading supplier of shelving systems across North America, and exports into the overseas market. Always on the cutting edge of innovation, Metalware make their home in a state-of-the-art manufacturing facility in Montreal, QC and still maintain the highest quality products and delivery.
Hats off to a great Canadian company.
View All Posts